Corporate Team Building Activities
Unique Off-Road Challenges in the Desert
unique corporate team adventures
A team that works together is like a well-oiled machine, but group cohesion doesn't happen overnight. And let's face it: the monthly birthday cake "celebration" in the kitchen at your office won't exactly foster strong relationships within your group.
When you book a team building activity with Stellar Adventures, you're finding a new way to encourage participation from every member of your group. There's no one-size-fits-all way to approach team building, which is why we offer a wide array of activities that are designed to bring people together. From off-road challenges for your adrenaline junkies to photo hunt competitions for the members of your group who prefer to see the sights at a more relaxed pace, we've got something for everyone.
Your team will love coming together for these unique activities! Check out any of the offerings below and give us a call or fill out this form to find out more. If you have something else in mind, we can dig that too—just let us know what you envision and we'll bring it to life!
AMAZING OFF-ROAD CHALLENGE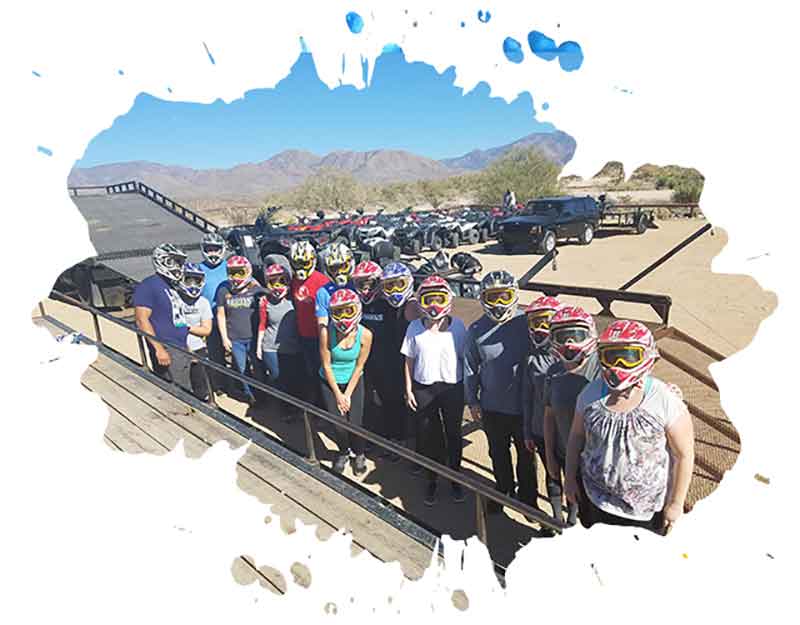 Our off-road challenges are a great way to add a little something extra to the already-amazing off-roading experiences at Stellar Adventures! In these challenges, groups are split up into teams and will have to work together to accomplish various missions out in the open desert.
You're already guaranteed the thrill of a lifetime when you take our Hummer or M1009 Blazer tours, but you'll enjoy it that much more with a little spirited competition. Your Chief Adventurer will explain each challenge and coordinate the clues, locations, and teams. All there is left to do is…WIN!
Some of the fan-favorite challenges are listed below. If you have an idea for another one, let us know and let's find a way to make it happen!
ARIZONA GORGE CROSSING
Your team will start on one side of a gorge with one objective: Build a bridge to get across. What's the catch? You'll see…
HAWAIIAN PICTIONARY
You remember Pictionary, right? The game you're terrible at? Well now you'll wish you'd spent less time screwing around in art class and more time perfecting your sketching technique.
TOUR DE FRANCE
We won't make you do the actual length of the Tour de France. Mainly because we don't really have 3 weeks. And because, when you think about it, 2,200 miles is really far. Don't worry, you get to complete the race as team.
TOWER BUILD
Think "giant Jenga"—and you'll be on the right track. See if you can build enough rows to move on to the next challenge!
PROGRESSIVE DRESS RELAY
Putting clothes back on as fast as you can… Kind of sounds like high school. You'll also be running as fast as you can to find said clothes… Also sounds like high school. (Relax—they're clothes that will go on top of your regular clothes. No one needs to know that much about their teammates.)
PRESS YOUR LUCK
Only by rolling a 7 or an 11 on these giant dice will get you your next clue. Feeling lucky?
GIANT CHOPSTICK TRANSFER
How are your chopsticks skills? You'll find out when you have to use the giant chopsticks to move a certain amount of noodles from Point A to Point B.
TEQUILA BOTTLE STANDUP
Standing up straight is usually the last thing you think of when you think of tequila. But in this challenge, you'll have to get a tequila bottle to stand up straight. Think there must be a catch? You're right.
TENNIS CHALLENGE
Channel your inner Serena Williams here—how good is your aim? Only once you hit the required number of targets across the court will you be able to move on to the next step…
MILK CAN KNOCKDOWN
Beanbag, meet milk can. If you can hit enough milk cans down, you can move on to the next part of the challenge.
PUTTING CHALLENGE
A hole in one is a lot harder than it sounds… Good thing you've skipped so much work to go golfing; it might actually pay off for once.
CROQUET RELAY
Time to be a team player—every member of your team will contribute to (or detract from) your progress on getting the ball down the lane. May the odds be in your favor—and may the uncoordinated colleague not be on your team.
DESERT SKIS
Get your game face on, because this is where the rubber meets the road. Your group's coordination and teamwork have to be spot-on to navigate this ski set built for four down the lane and back.
PIE-EATING CONTEST
Pretty much what it sounds like. Might want to skip breakfast. And maybe not wear those white pants.
CALF ROPING
Don't worry, you'll get a brief tutorial on how to be a real-life cowboy before this one. Not like that will make it easy.
Photo hunt off-road adventure
The Stellar Adventures Photo Hunt Off-Road Adventure encourages teamwork and collaboration from your group as they work together toward a common goal. Your team will be split into smaller groups, and each group will ride in separate Hummers. Armed with Polaroid cameras and vegetation and wildlife handbooks, they will embark on a quest to photograph 10 different items specified in the handbooks. Two team members must be in each photo, and each team will tap into its creativity to provide a caption describing the photo—extra points for working in the name of your company!
The group that accumulates the most points wins. Watch your team come together in the spirit of friendly competition with the Arizona Photo Tour!
Let's plan your team adventure